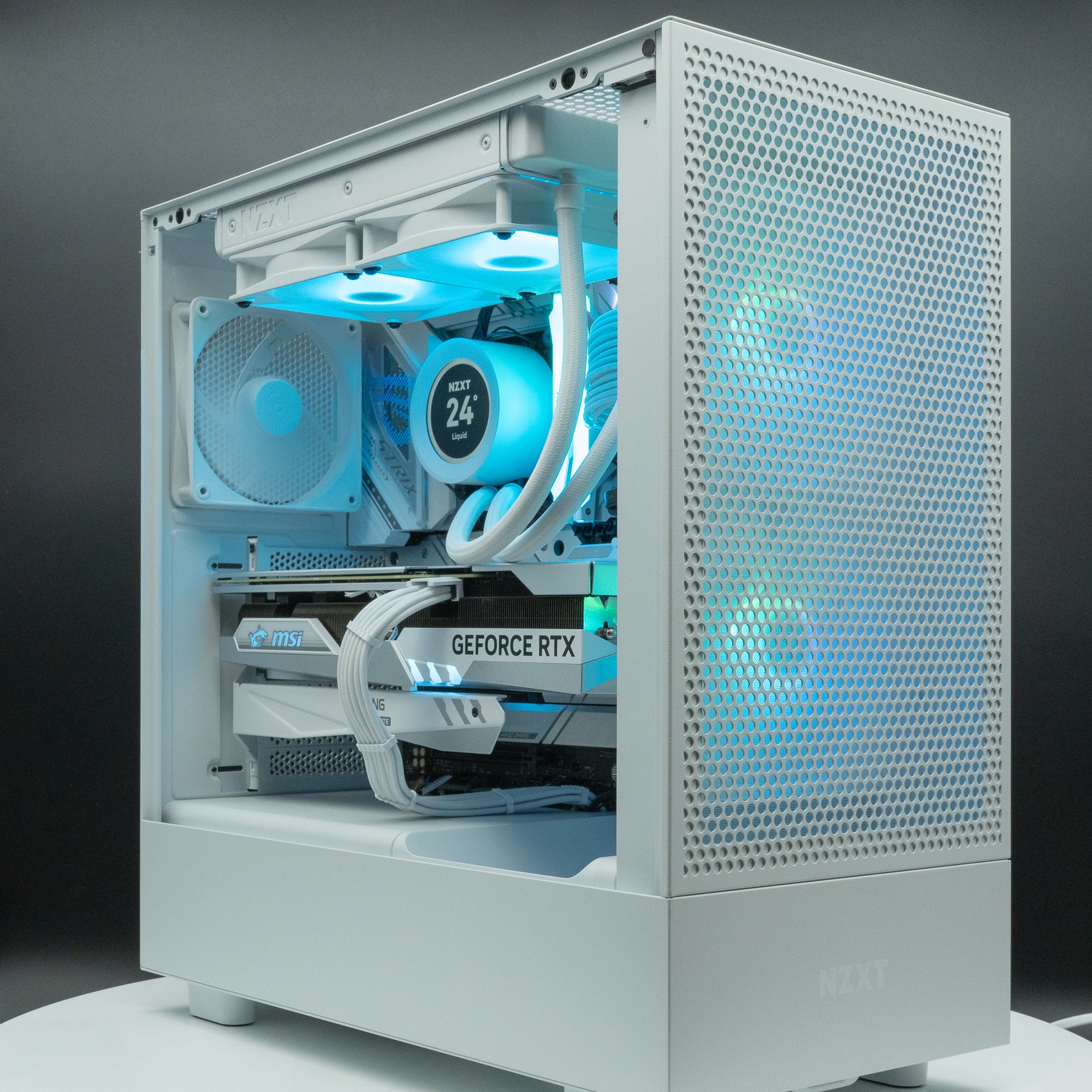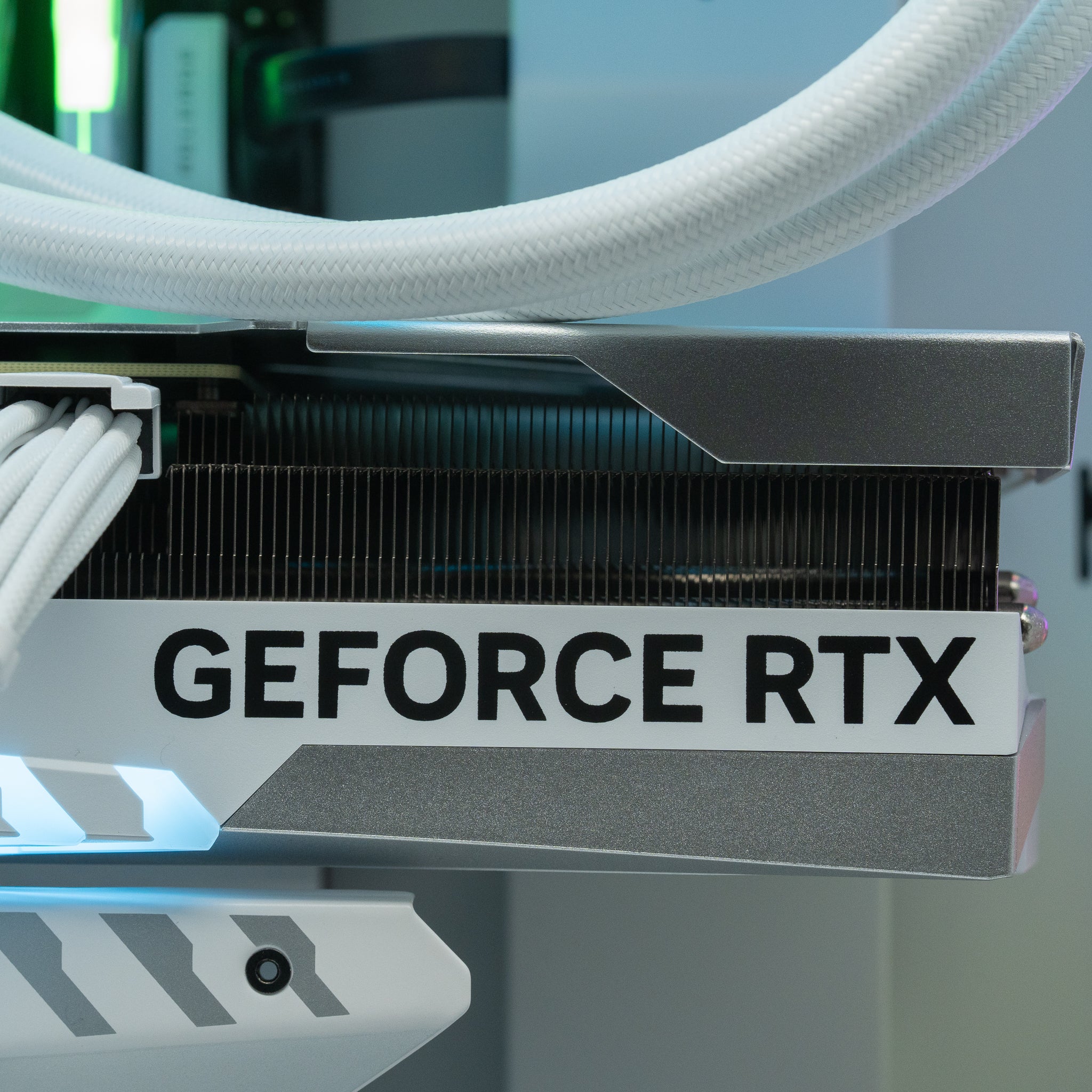 The Archon - Intel - White
---
The Archon - 14th Gen Intel - Rule Your Game.
The Archon (Intel) is designed especially for gaming. In ancient Greek, the word "Archon" meant "lord" or "ruler." So to rule your games, nothing short of Intel's 14th Generation "Raptor Lake" processors will suffice. Groundbreaking is the right word for the performance level with these new Intel CPUs, and we're seeing a significant jump in performance over the previous generation in both gaming performance and content creation applications. Perhaps it's the record high clock speeds, or perhaps it's because of the larger L2 and L3 caches  - we're betting it's a little of both!
For the GPU, we give your Archon a GeForce RTX 4070 or RTX 4070 Ti. Powered by NVIDIA's new "Ada Lovelace" architecture and featuring base clock speeds of over 1000 MHz faster than the previous generation RTX 3080, these GPUs are legitimately 4K ready if you're so inclined. Why do we like NVIDIA based GPUs so much here? For starters, the performance is much more capable across the complete spectrum of gaming functionalities than any other products. When you factor in ray tracing, AI acceleration capabilities, and the surrounding ecosystem of supporting software, the NVIDIA GeForce lineup is still easily the best performing and most complete product stack in PC Gaming. As for the outgoing RTX 3080, we hate to say it, but for gaming applications, there's no justification in choosing it over the new players. 
Since we have the best available CPU and an absolute warhorse of a GPU in this one. We figured we should look for a motherboard capable of allowing these Rockstar performers to actually perform at their best. The quickest way to ensure your system deteriorates quickly is to cut corners on the motherboard. The quality of the power solution, cooling system, capacitors, and VRM truly matter more and more the longer you play on a system. Motherboards are sort of like people - they all age differently. And like people, some of them age more like bad cheese than fine wine. Since we provide a lifetime warranty on our builds, we felt like we should use the fine wine kind. Enter the ASUS ROG Strix Z790-A Gaming WiFi. We use this mainboard in lots of our white builds, because it looks super clean and also delivers on the performance we demand - 16+1 power (90A rated) along with top quality chokes, capacitors, VRM and heat sinks - this one screams quality. And it carries all the connectivity that matters - onboard WiFi 6E, Bluetooth v5.3, tons of USB input/output including multiple Type-C, and PCIe Gen 5 ready, this is a platform that will carry you into the future with confidence. 
If we may circle back to our CPU for a moment, we should address the issue of CPU cooling. These Raptor Lake CPUs are hot dates when they're working hard, so you can't show up with some weak cooling solution and expect it to be able to throw down its best dance moves at the gaming party. Things like the size of the cold plate, the machine quality of the microfins inside the unit, and the flow rate and quality of the pump matter when it comes to thermals. Like the other parts, there are levels to this stuff. The NZXT Kraken 240 RGB and Kraken Elite 240 RGB in white are absolute S-Tier performers, and were literally designed for this H5 Flow RGB chassis - how could we have done anything else?
For storage we looked to the Kingston KC3000 for this one. It's a top performer at its price tier with sequential read/write speeds of 7000 Mb/s and superior numbers in terms of longevity and durability as well. We could talk about triple-layer-cell (3D) NAND flash, Phison E18 controllers, graphene aluminum heat spreaders, die density and so on. But instead we'll just say this drive is super fast and will let you game, stream, record, and run Windows all at the same time.
Since we were already on the phone with Kingston, we decided to go ahead and buy the memory for this one from them, too. Just kidding. We did buy Kingston memory though - the Fury Renegade DDR5-6000 variety. We chose it because not only does it look great, but we've had a significantly lower failure rate for memory kits during testing with Kingston than any other brand of memory we've tested. And we've tested quite a few. 
If you're going to rule the kingdom, you'd better look good, so we cased this one in NZXT's new H5 Flow RGB. A dramatic improvement in terms of airflow from the earlier version of the H5 platform, this one delivers significantly better thermals and maintains the iconic, clean look that's made the H5 one of the most popular designs ever made. Importantly for our applications, it also has a dedicated fan on the bottom inside panel angled to direct a steady supply of cool air directly into the GPU. And we all know - Brrrr means more frames!
We power it all with an 850-watt, fully modular, 80-Plus gold rated unit to ensure that there will always be a steady supply of smooth, efficient power with plenty of headroom to turn on the performance when needed. By our math, the estimated peak power usage on this one comes in somewhere just south of 700 watts with the RTX 4070 Ti option, so we've left plenty of overhead for overclocking and future expansion. If a cheap motherboard is the fastest way to make your system deteriorate, then a cheap power supply is probably right behind it as the next most efficient way to ruin otherwise great builds. 
Stock cables are a crime for high end builds like this one, so we keep you legal with our sleeved cable extensions in your choice of colorway from our available library.
The Gladiator comes with Windows 11 Professional installed and updated.
All Alexander PCs systems arrive:
* Fully assembled, with Windows installed, activated and updated
* Memory overclocked
* BIOS and drivers updated and optimized
* Ready to unbox, plug in, install your games and play!
The Archon - Specs
CPU - Intel Core i7-14700K
CPU Cooler - NZXT Kraken 240 RGB -or Kraken Elite 240 RGB - White
Motherboard - ASUS ROG Strix Z790-A Gaming WiFi
GPU - GeForce RTX 4070 -or- GeForce RTX 4070 Ti
RAM - 32GB Kingston Fury Renegade RGB DDR5-6000 White
SSD - 1TB -or- 2TB Kingston KC3000 M.2 NVMe SSD
Operating System - Windows 11 Professional
Power Supply Unit - 850 watt, 80+ gold rated, full modular
Chassis - NZXT H5 Flow RGB
Extras - Sleeved Cable Extensions in client's choice of color from available library
Warranty: Lifetime Parts and Service