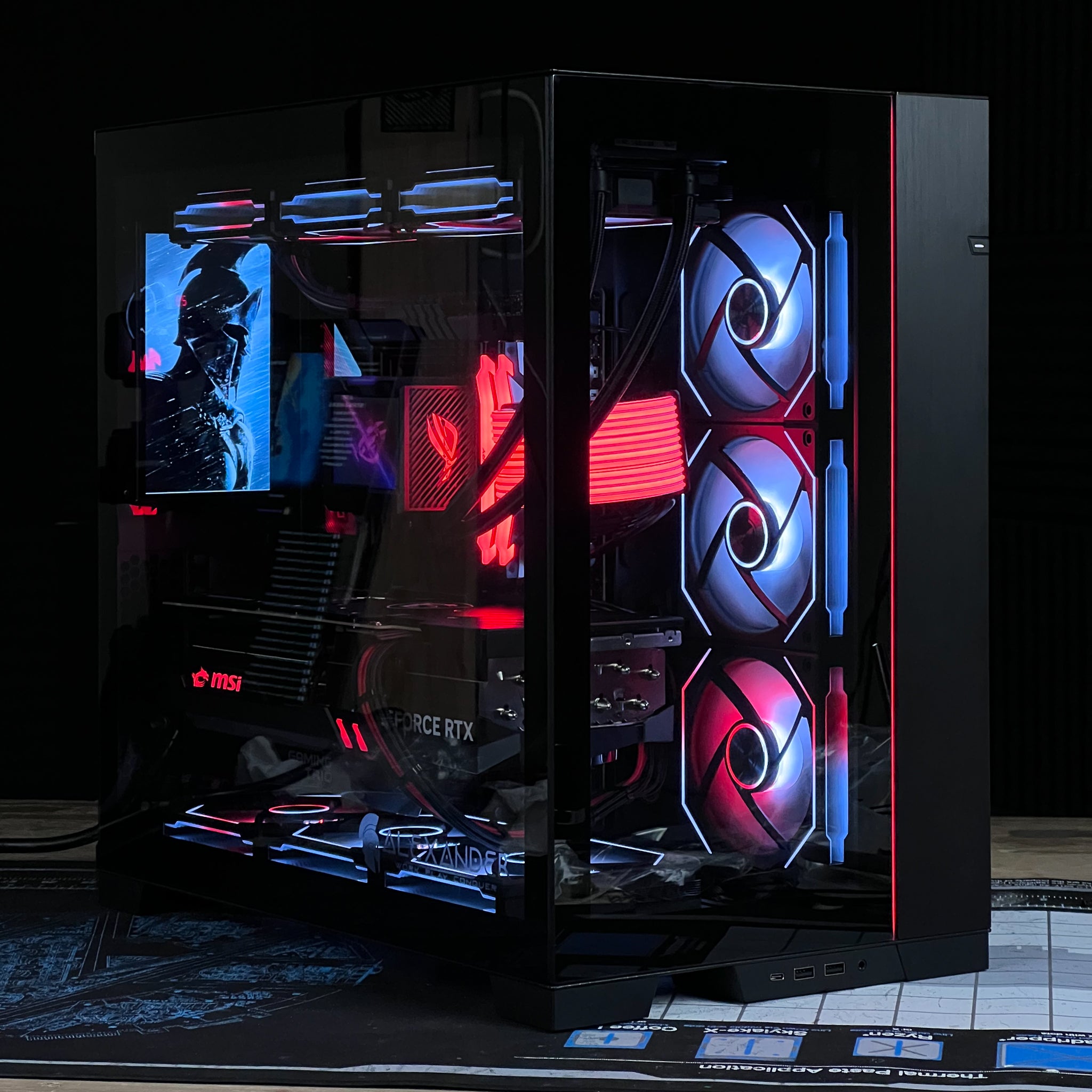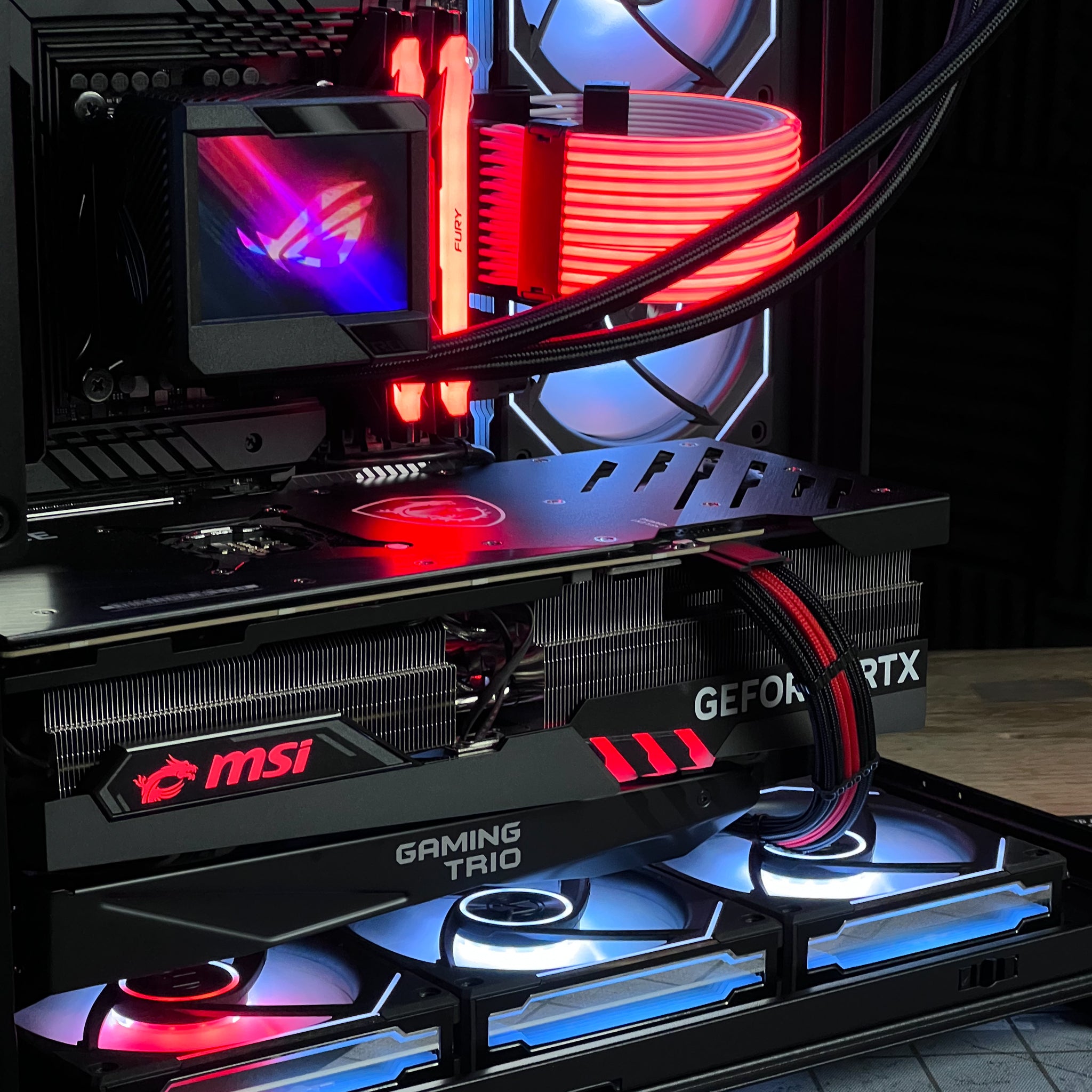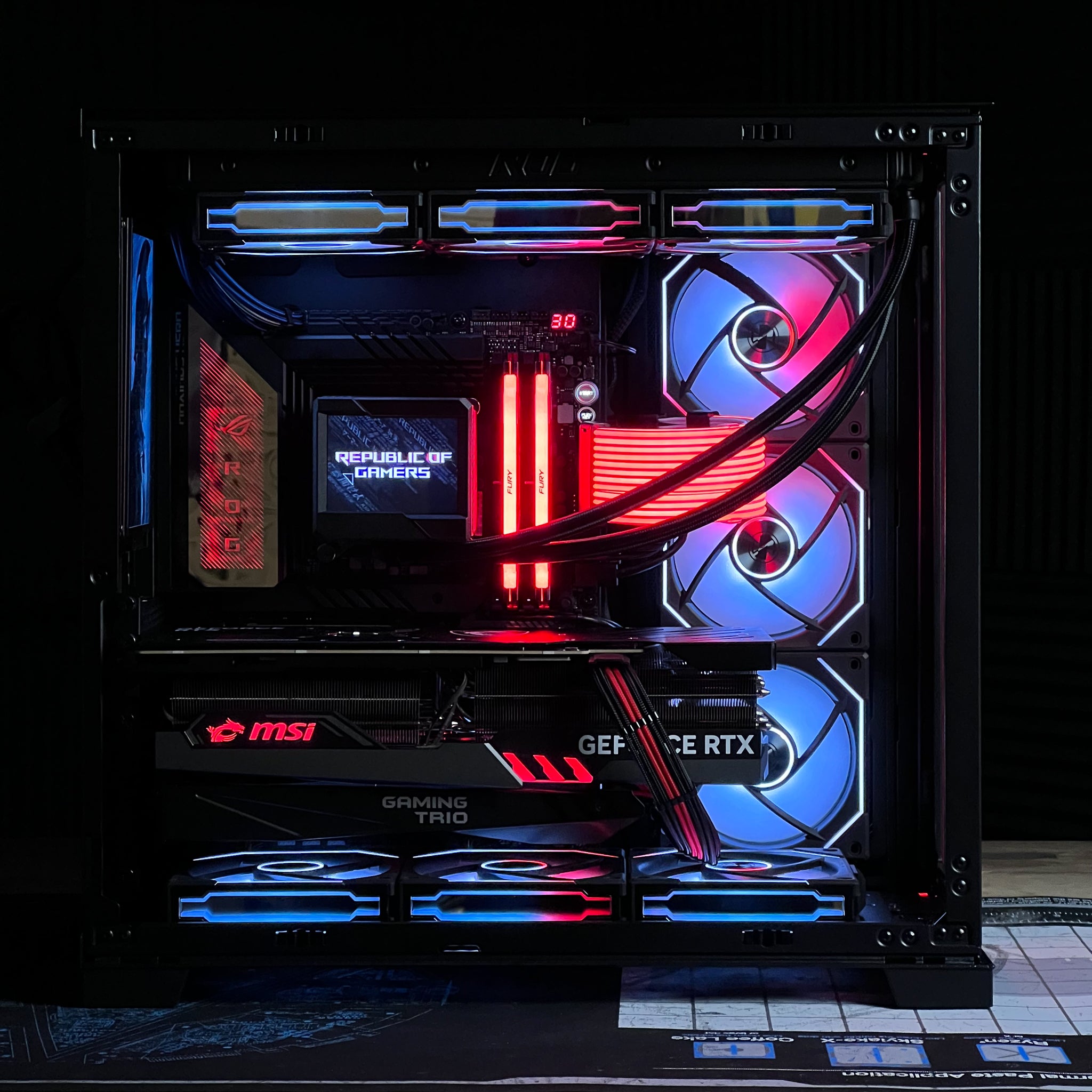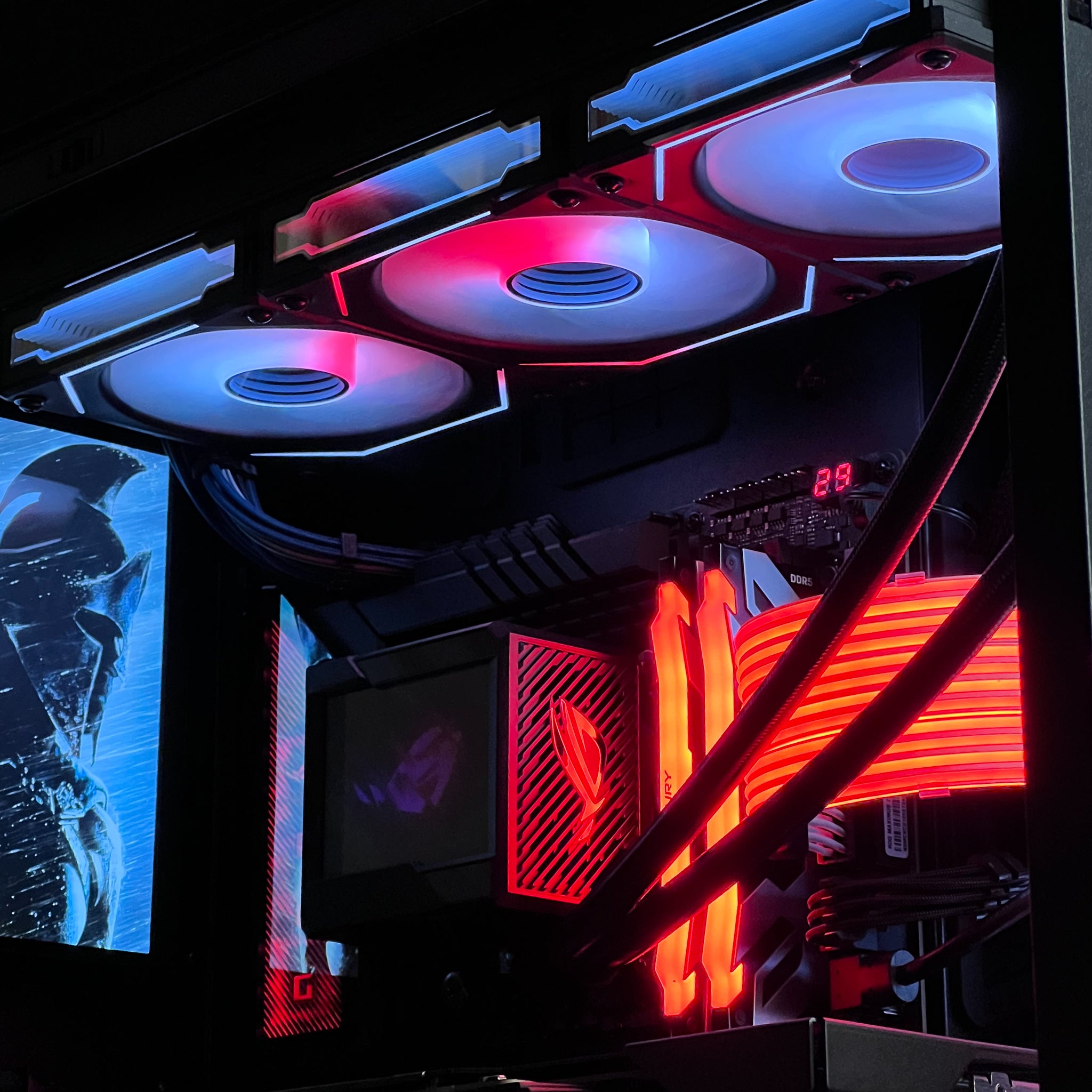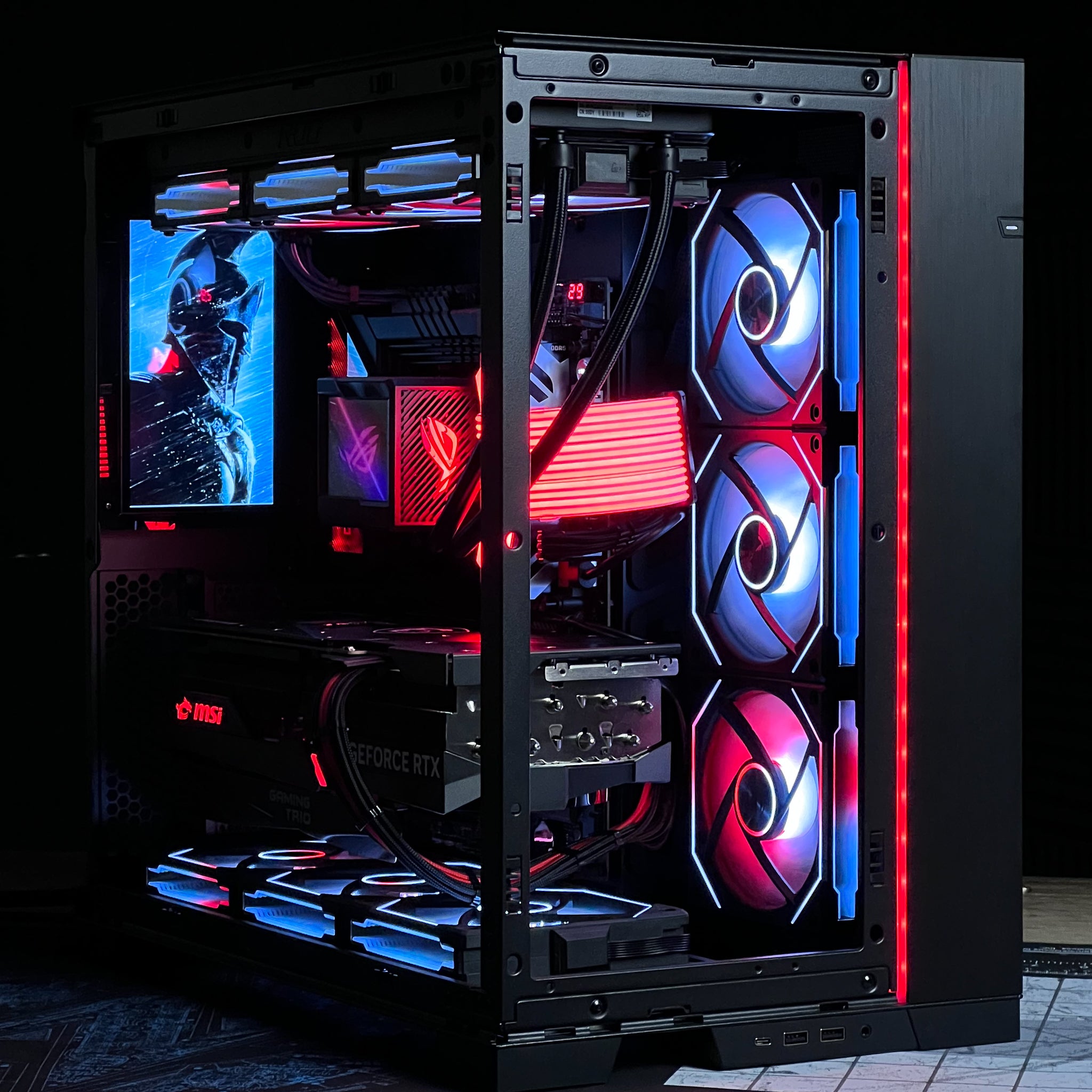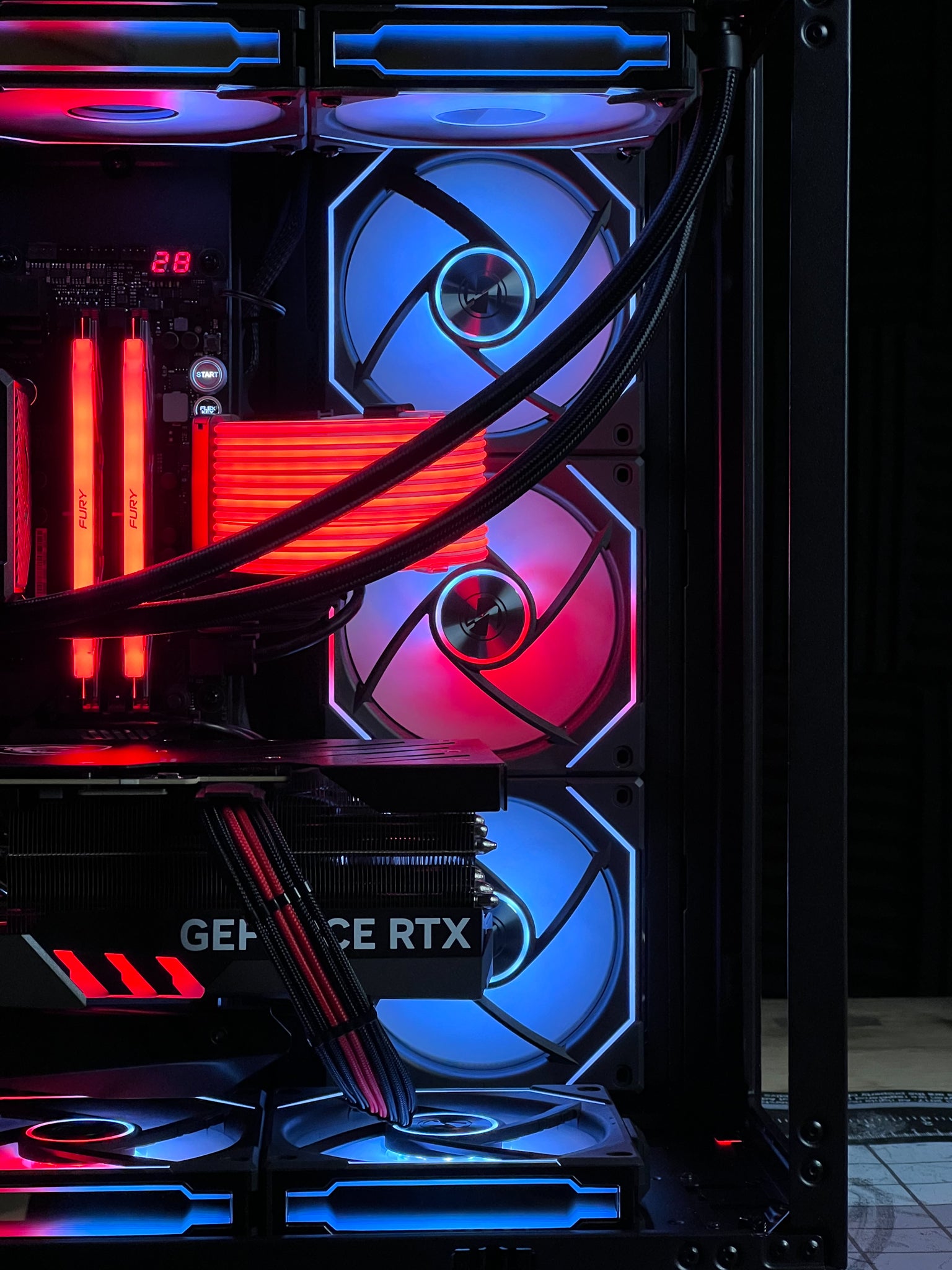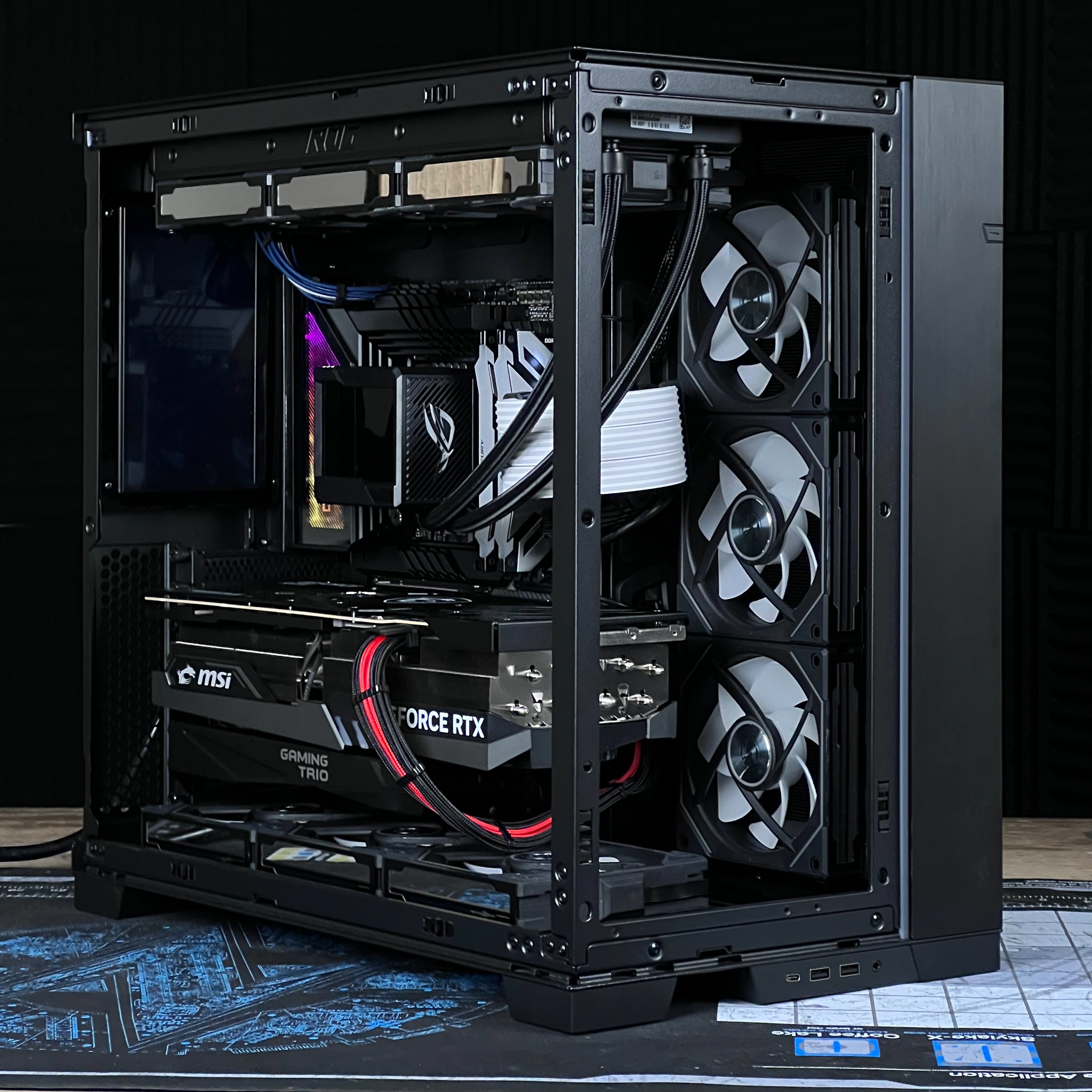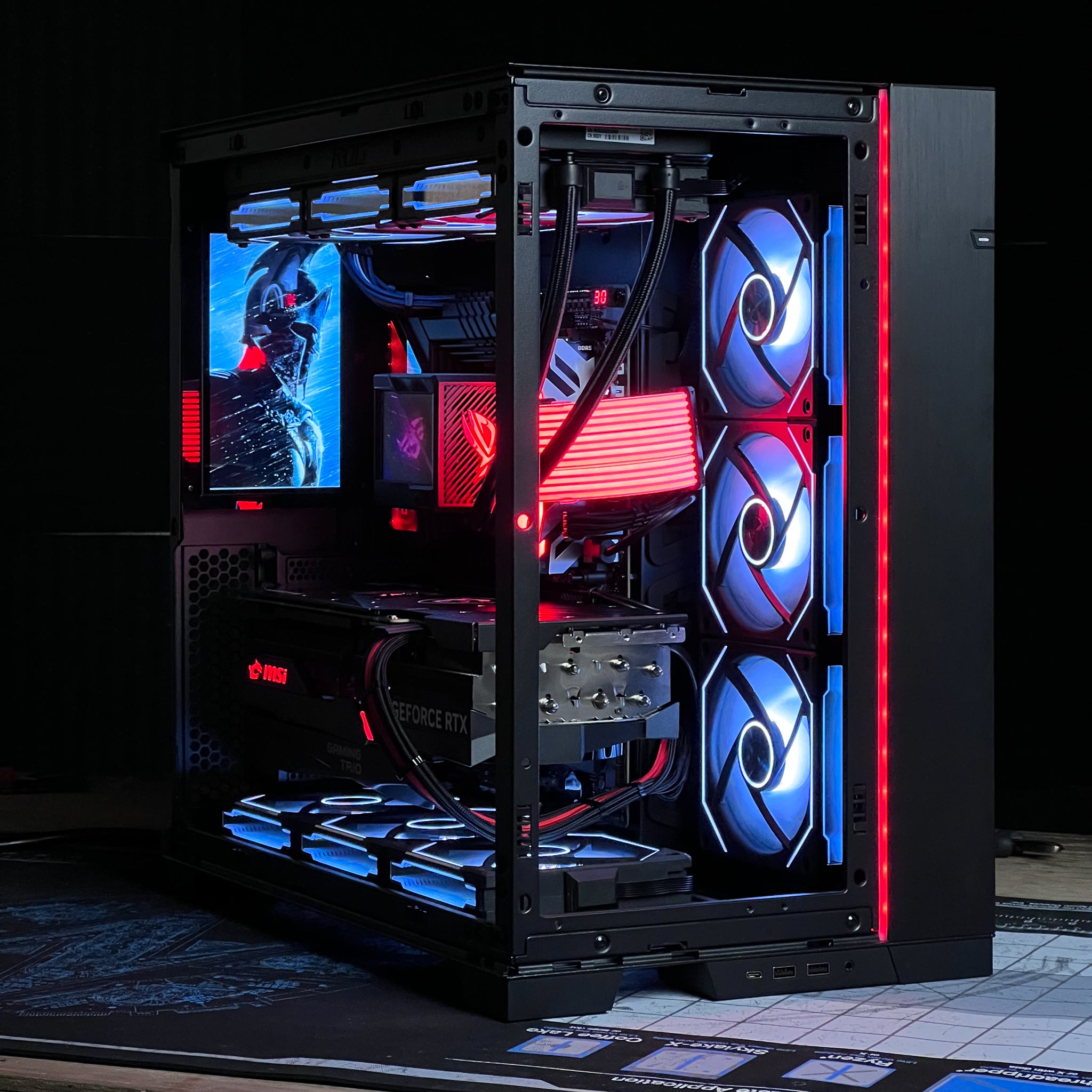 The Legatus - Intel - Black
---
The Legatus - 14th Gen Intel - Command Your Gaming Empire
The Legatus is Alexander PCs Flagship Gaming Rig. Short of a fully custom water cooled machine (we also do these, if that's your jam) this is as good as it gets for gaming. In the Roman Army, the Legatus commanded the entire legion. And that's exactly what you'll be doing with this one!
As our flagship build, we wanted this one to have all the horsepower and all the RGB. To harness all this epic energy you need to platform on a top tier motherboard. So we're building on an ASUS ROG Maximus Z790 Hero for this one. Because it's the best! Want specifics? Say no more! This motherboard delivers absolutely everything - insane 20+1 power stages, Dual Thunderbolt 4 support, PCIe 5 compatibility, plenty of I/O for all your peripherals and external devices, and onboard WiFi 6E and Bluetooth v5.3. Not to mention stunning visuals. Of course, you also get access to ASUS' Armoury Crate software with this one so you're always up to date with the latest drivers and firmware with just a couple clicks.
For a GPU, it's the reigning world champion GeForce RTX 4090. I mean, what else could we really use for our flagship PC? The Ultimate GeForce GPU delivers 24GB of GDDR6X VRAM, a previously unthinkable 16,384 CUDA Cores, and boost clock speeds in excess of 2.5 GHz. To say the new Ada Lovelace is a step forward in graphics processing is like saying Michael Jordan could ball a little bit or some dude named Magnus is a pretty solid chess player... it's crazy performance and these cards have absolutely blown away every existing performance metric we have. 
We've chosen the Intel core i9-14900K for this one. Let's linger on this new Raptor Lake CPU for a moment... Like its 13th Gen predecessor, the new Intel 14th Gen chips utilize a clever hybrid CPU core design making use of dual-threaded "P" or Performance Cores, and single-threaded "E" or Efficiency Cores. This hybrid design allows the CPUs firmware to optimize the CPUs workload by directing various taskings to the optimal core type to ensure you're always running as quickly and efficiently as possible. So if you're simultaneously gaming, streaming, and recording (and of course, running an operating system) this architecture ensures these things can all happen in the most efficient way possible to prevent any bottlenecking.
Based on the brilliant core design, these new 14th Gen CPUs deliver monstrous performance right out of the box - the Core i9-14900K delivers clock speeds over 5.6 GHz on all P Cores with boost clock speeds up to 6.0 GHz. So we're talking serious performance here. Serious performance means big power draw, and big power draw means lots of heat. So to ensure your system not only zips along at top speeds and stays frosty but also delivers some epic customization options we offer a choice of three different all-in-one liquid CPU coolers. All these options are all proven Tier 1 performance components, so whatever way you decide to go, you're guaranteed to get the Brrrr you need. We also make sure you get a customizable OLED or LCD screen to play GIFs or display temps, so you can opt for the Corsair iCUE H150i Elite XT LCD, ASUS ROG Ryujin III 360, or the NZXT Kraken Elite 360 RGB. 
Next we took a look at memory. DDR5 has now reached a point where it's broadly available and we have the chance to be super picky here about what we want to use for our flagship build. We took a look at all the top-shelf memory offerings and settled on a 64GB serving of the new Kingston Fury Renegade RGB DDR5-6000 as the best choice based not only on its extremely high clock speeds but also its lower CAS latency than other brands' memory with the same speed. 
Sticking with the Kingston Fury Renegade lineup, we opted for the 2TB version of the Fury Renegade M.2 NVMe SSD as the main/OS drive for this build. We love not only the 7300 Mb/s sequential read speed but the 7000 Mb/s max write speeds also edge out competition from other brands. All M.2 NVMe drives are not created equal. This one boasts an absolute top-shelf controller as well as TLC (triple layer cell) 3D NAND flash memory. This kind of quality ensures both superior performance and longevity versus cheaper storage solutions.
This much power requires a lot of... uhh, power. We absolutely do not cut corners on power supplies here at Alexander PCs. Because cutting corners on a PSU is a surefire way to shorten the lifespan of your entire system, it's critical to use the good stuff. For that reason, Alexander PCs rolls out the big guns with a 1300-watt 80+ Platinum rated unit. Because this CPU/GPU combination pulls so much power, we wanted to leave plenty of headroom to ensure your components never go wanting for the energy they need. 
We house all this horsepower in the Lian Li PC-O11 Dynamic EVO case. It provides the perfect platform to both display all this amazing hardware in an aesthetically pleasing way and cool it all in a way to ensure it can still perform at its best. If you're familiar with our brand, you know that we are big on customization here at Alexander PCs, so we also include one of our famous 7-inch Windows native LCD screen mods for this build. The ability to add custom display images, vital system info, or motion graphics on a screen mod is a simple and elegant way to make a PC unique and extremely personal. We take our clients' gaming immersion pretty seriously around here, and in our experience clients who are purchasing top-tier systems often see their PCs as extensions of their personalities, so providing this level of customization is something we feel strongly about!
Another part of the equation for our flagship product in terms of customizations is a choice of several different fan models. The Corsair iCUE QL120, Lian Li UniFan SL, SL V2, or SL-Infinity are all great options for fans - so pick your favorite!
 All Alexander PCs systems arrive:
* Fully assembled, with Windows installed, activated and updated
* Memory overclocked
* BIOS and drivers updated and optimized
* Ready to unbox, plug in, install your games and play!
Full System Specs
CPU - Intel Core i9-14900K
CPU Cooler - NZXT Kraken Z73 - or - ASUS ROG RYUJIN II 360 -or- Corsair iCUE H150i Elite LCD X (Black)
Motherboard - ASUS ROG Maximus Z790 Hero
GPU - GeForce RTX 4090
RAM - 64GB Kingston Fury Renegade RGB DDR5-6000 (Black)
Storage - 2TB Kingston Fury Renegade M.2-2280 NVMe SSD
Operating System - Windows 11 Professional
Power Supply Unit - Minimum 1300-watt 80+ Platinum rated, fully modular
Chassis - Lian Li PC-011D Dynamic EVO (Black)
Case Fans - Lian Li UniFan SL120 -or- Lian Li UniFan SL120 V2 -or- Lian Li UniFan SL-Infinity -or- Corsair iCUE QL120
Extras - 7-inch Windows Native LCD Screen mod
Warranty: Lifetime Parts and Service