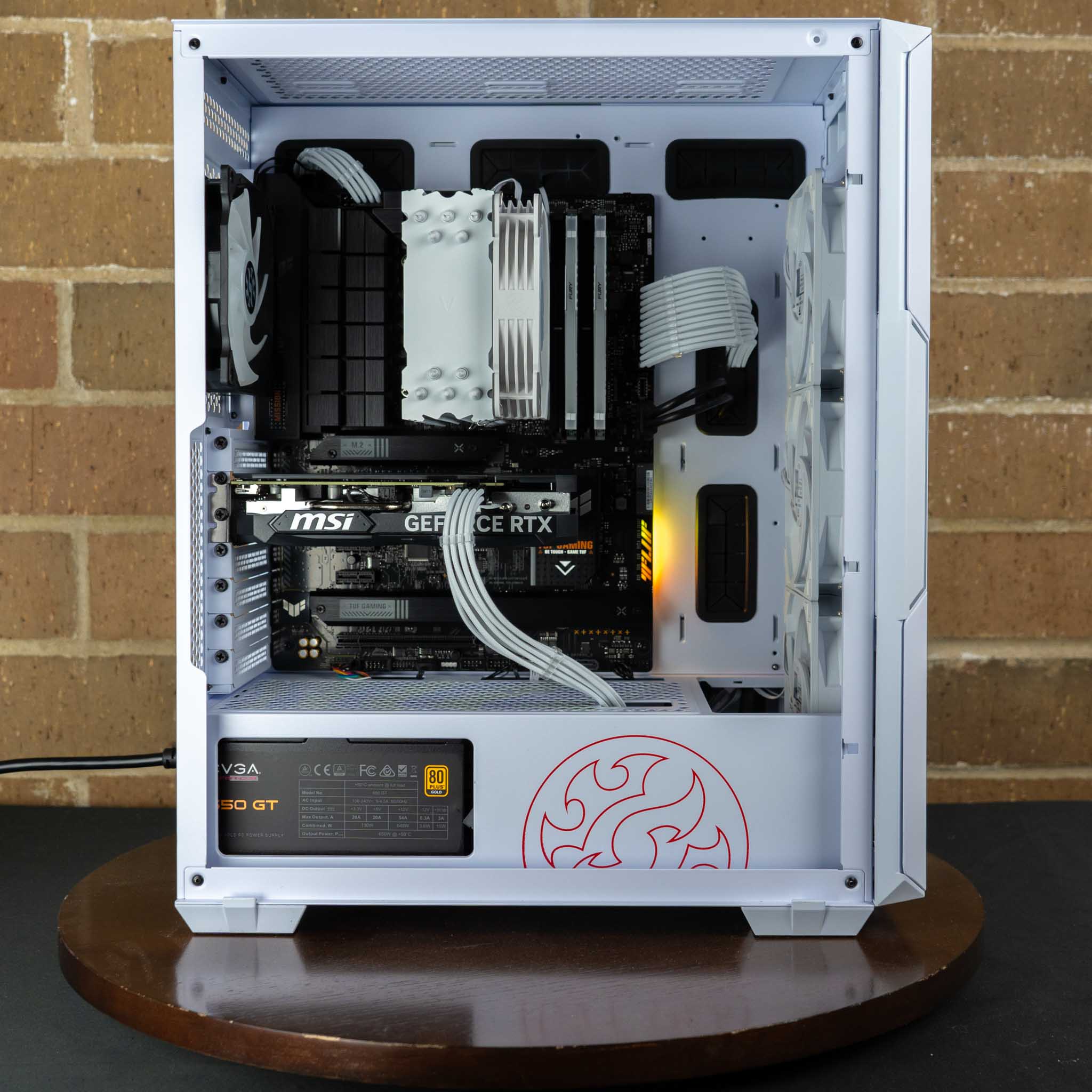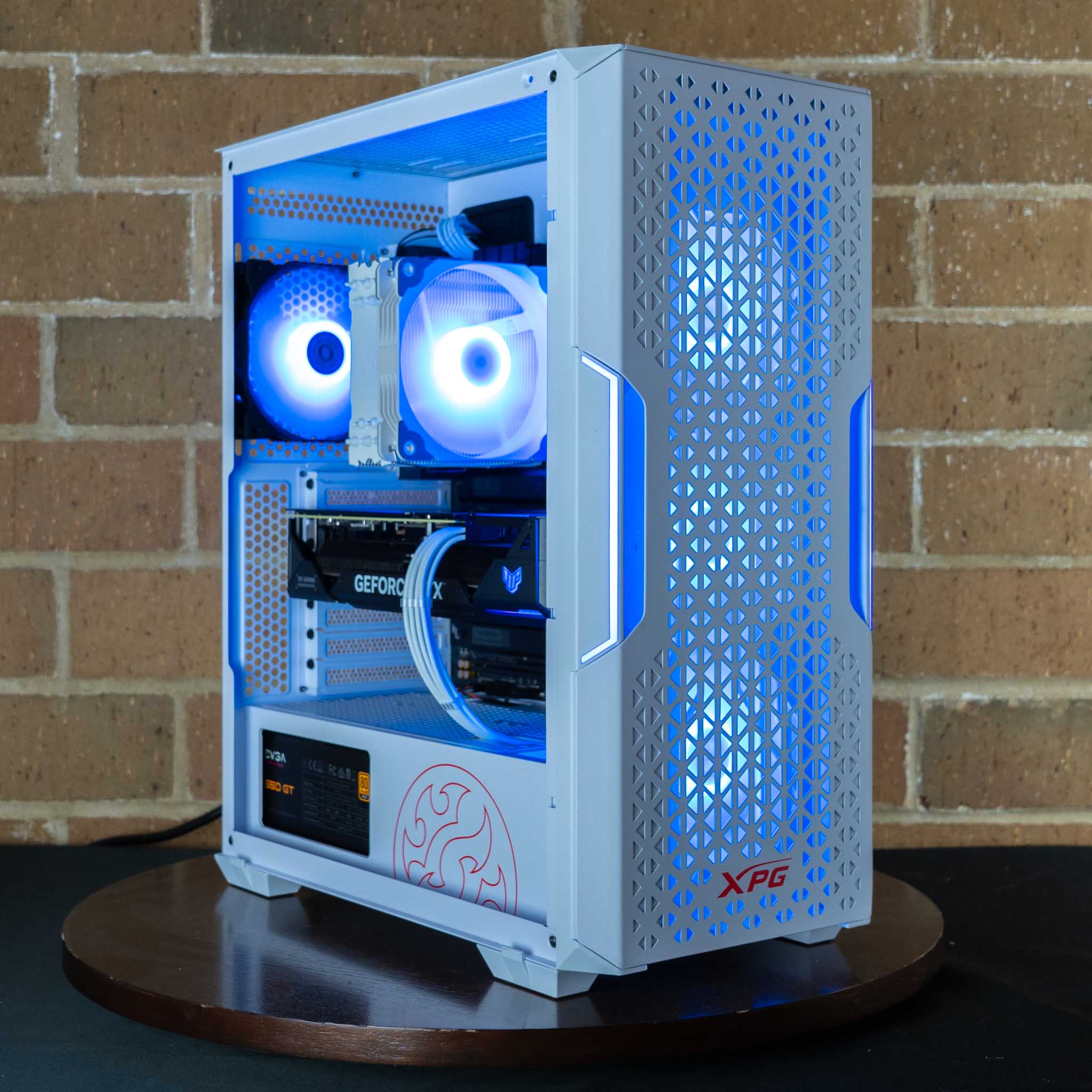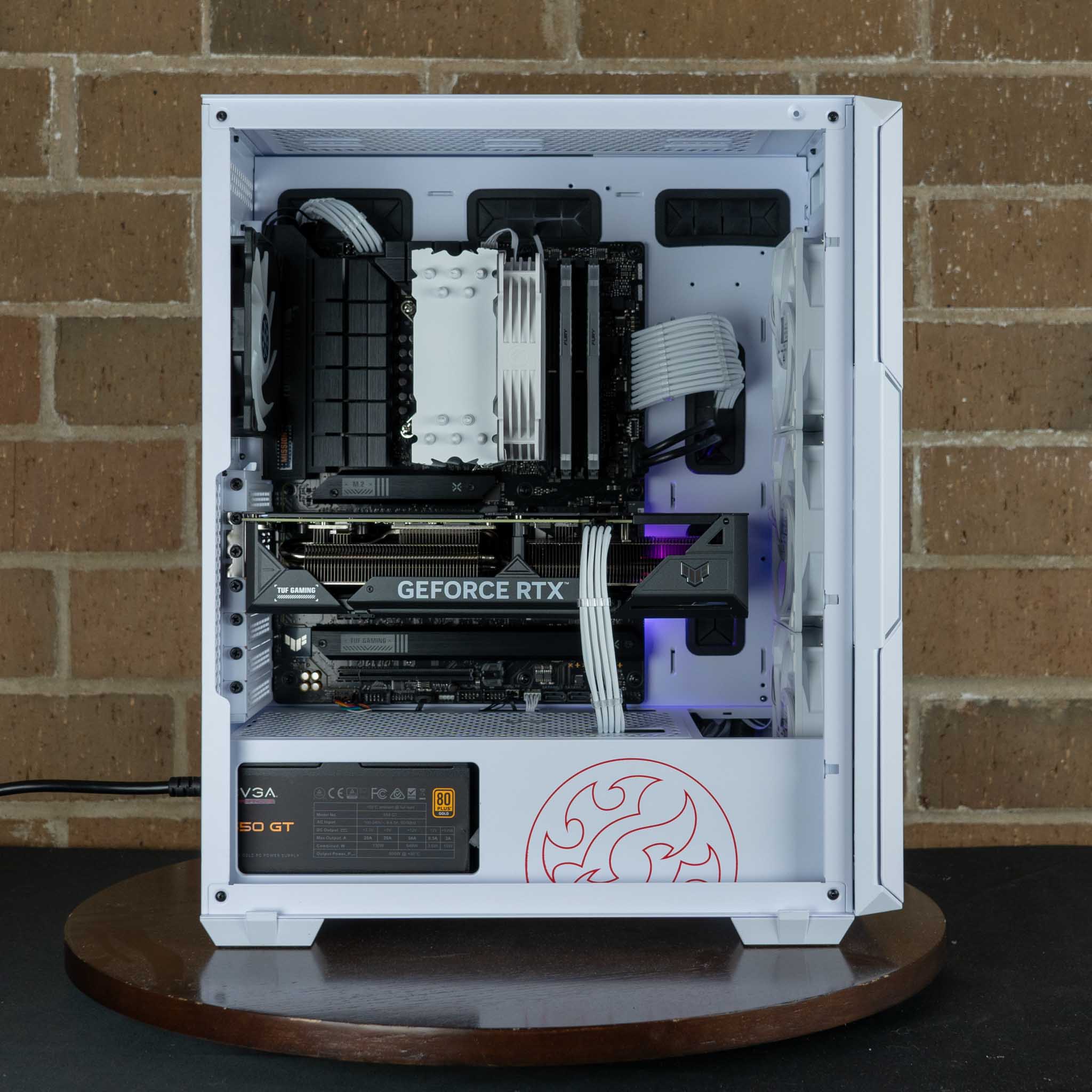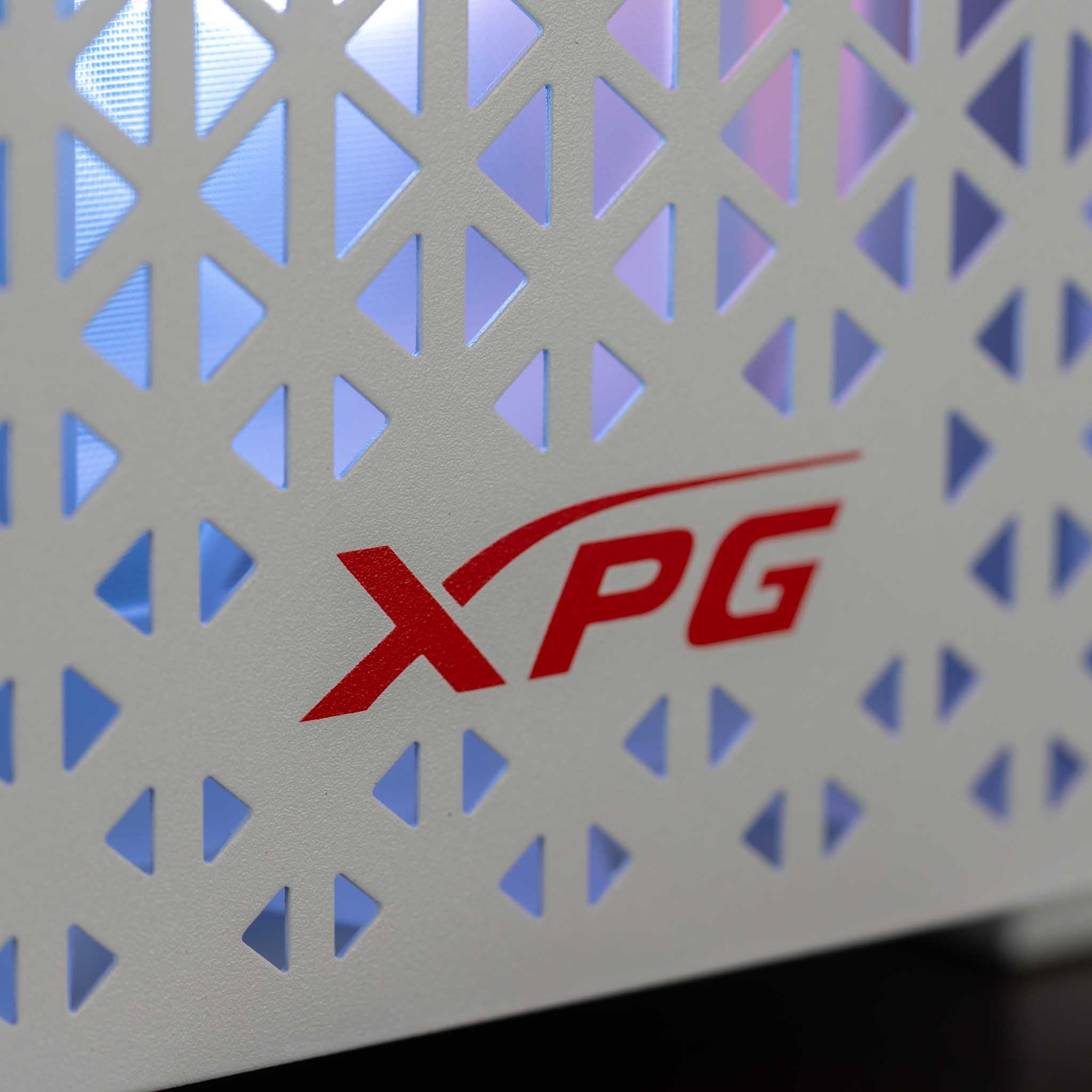 The Peltast - Intel - White
---
The Peltast - 13th Gen Intel - Precision Unleashed!
Sharpen your gameplay with the precision of our Peltast model...
We kicked off this model with the Intel Core i5-13500. At this price point, getting 14-Cores/20-Threads of CPU power is pretty crazy. For reference, that's more cores than the previous generation Core i7-12700K. This CPU is built on Intel's 13th Generation "Raptor Lake" architecture and also benefits from a moderate efficiency increase over previous versions. We keep it cool with a Vetroo V5 cooler that provides more than enough chill to keep the CPU boosting along happily.
For our Graphics Card in this one, we've opted for the GeForce RTX 4060 Ti. This is a new entry in the NVIDIA based RTX 40-series lineup, and makes high frame rate 1440p gaming a reality. Support for NVIDIAs best performance tools like DLSS 3.0, advanced real-time ray tracing, and Reflex are always included and you're getting plenty of CUDA cores to deliver the bandwidth you need for demanding game engines and 3D applications. The 4060 Ti represents a decent improvement over the outgoing 3060 Ti at essentially the same price point, so we've worked them into our lineup right away!
We've platformed the Peltast on an ASUS TUF Gaming B760-PLUS WiFi motherboard. As you would expect this motherboard is very "TUF." The heat sinks for the VRM are seriously robust, and it delivers 12+1 phase DrMos power stages as well. Plenty of I/O onboard, along with 2.5G ethernet and onboard WiFi 6 and Bluetooth. Thunderbolt support is here as well, and USB 3.2 Type-C. All the connectivity that matters, and not a corner cut on the chokes, capacitors, or PCB quality. Another typically excellent entry in the TUF Gaming line from ASUS, this one definitely doesn't disappoint. Importantly, this one is also DDR5 for memory standard.
On that subject of DDR5 memory, we've opted for 32GB of Kingston Fury Beast RGB at DDR5-5600 speed. Kingston has long been a premium name in memory, and for good reason. Ultra-low failure rates, rigorous quality control, and stylish aesthetics are all a standard part of the deal with Kingston. Why compromise?
We decided not to compromise on the storage drive here either, so we stuck with Kingston and opted for a 1TB NV2 PCIe Gen 4.0 M.2-2280 NVMe Solid State Drive with 1TB of storage space for this system. Mechanical hard drives have average read/write speeds of 80-160 Mb/s. That's a disaster if you're wanting to actually play games without constant bottlenecking. Mechanical hard drives are still great - for mass storage of pictures, movies, music files, and documents. But they just don't have the speeds you need for gaming. We only use drives that deliver read/write speeds up to 3500/2800 Mb/s. If you're still running on an old hard drive or SATA based SSD, you're going to love the difference! And if 1TB isn't enough storage space for you, just opt for the 2TB drive instead if you're so inclined. 
We tested LOTS of cases when we were searching for that perfect home for our new Peltast. After an amount of testing that nearly had our technicians ready to commit violence against management, a winner emerged - the XPG Starker Air. As anyone who follows Alexander PCs knows, we are big on airflow around here when it comes to our systems. This one delivers on that, and also provides a slick, magnetic mesh front panel that allows for easy cleaning of the dust filter. We also liked the aesthetic here with the two front ARGB lighting strips providing a cool case-front lighting element without being overdone. And while we're talking about lighting, of course we provide a full serving of 120mm ARGB fans for this one as well so that you can change your lighting colorways and modes to suit your own tastes. 
For the power supply, we opt for a 650-watt 80+ gold rated unit. This is plenty of overhead to ensure there is always available power on tap for CPU and GPU boosting.
As always, your Alexander PC comes with well-managed wiring and cabling, and your choice of colorway for sleeved cable extensions because stock cables are a crime.
All Alexander PCs come with Windows 11 Professional installed and fully updated. We also install and update all necessary drivers prior to shipping your PC.
All Alexander PCs systems arrive:
* Fully assembled, with Windows installed, activated and updated
* Memory overclocked
* BIOS and drivers updated and optimized
* Ready to unbox, plug in, install your games and play!
Full System Specs
CPU - Intel Core i5-13500
CPU Cooler - Vetroo V5 White
Motherboard - ASUS TUF Gaming B760-PLUS WiFi (DDR5)
GPU - GeForce RTX 4060 Ti
RAM - 32GB Kingston FURY Beast RGB DDR5-5600 White
SSD - 1TB -OR- 2TB Kingston NV2 PCIe M.2-2280 NVMe SSD
Operating System - Windows 11 Professional
Power Supply Unit - 650-watt 80+ gold rated, fully modular
Chassis - XPG Starker Air White
Added Fans - (4x) 120mm PWM ARGB
Extras - sleeved cable extensions in client's color choice from available library
Core parts list: https://pcpartpicker.com/list/Dx4cW4 - Extras not shown