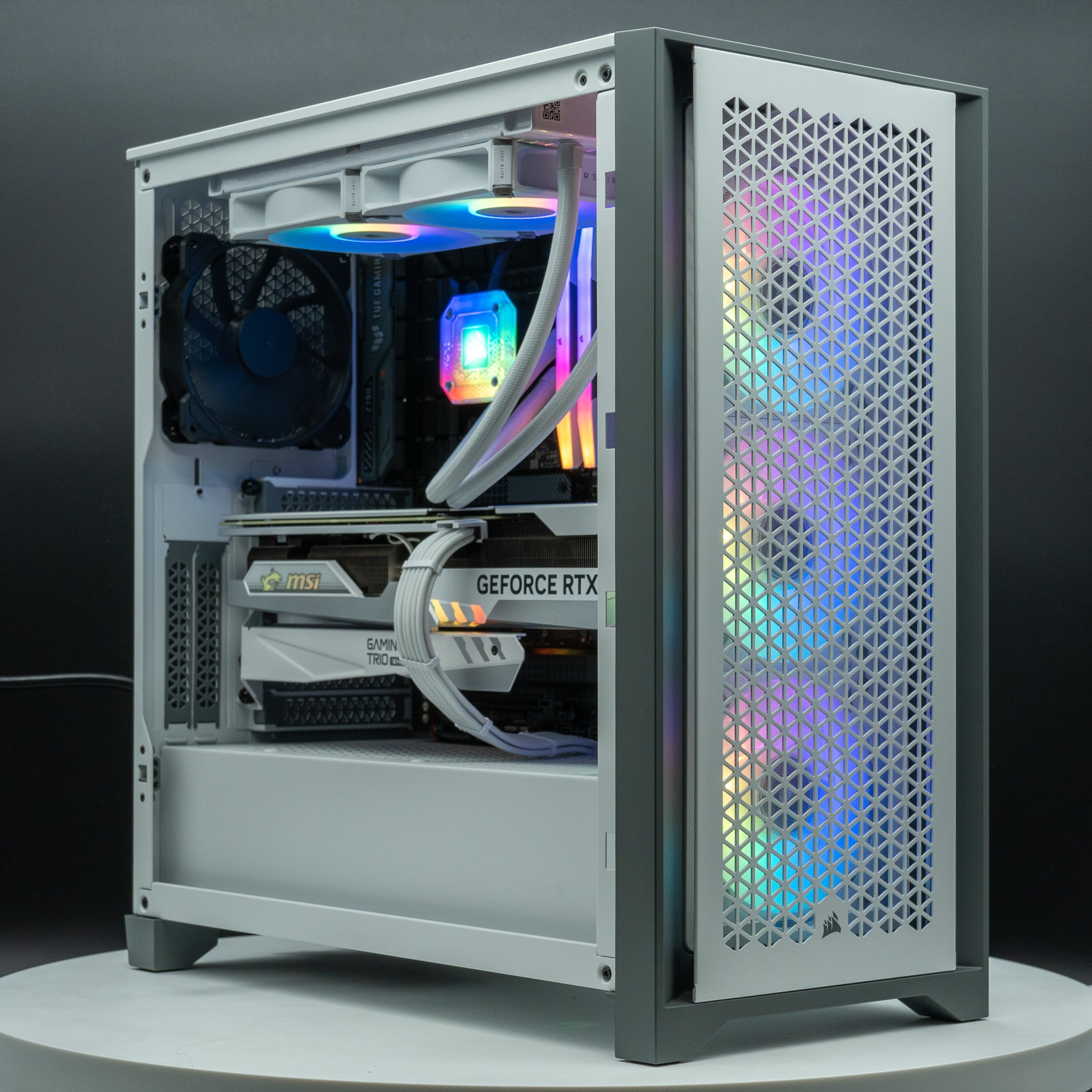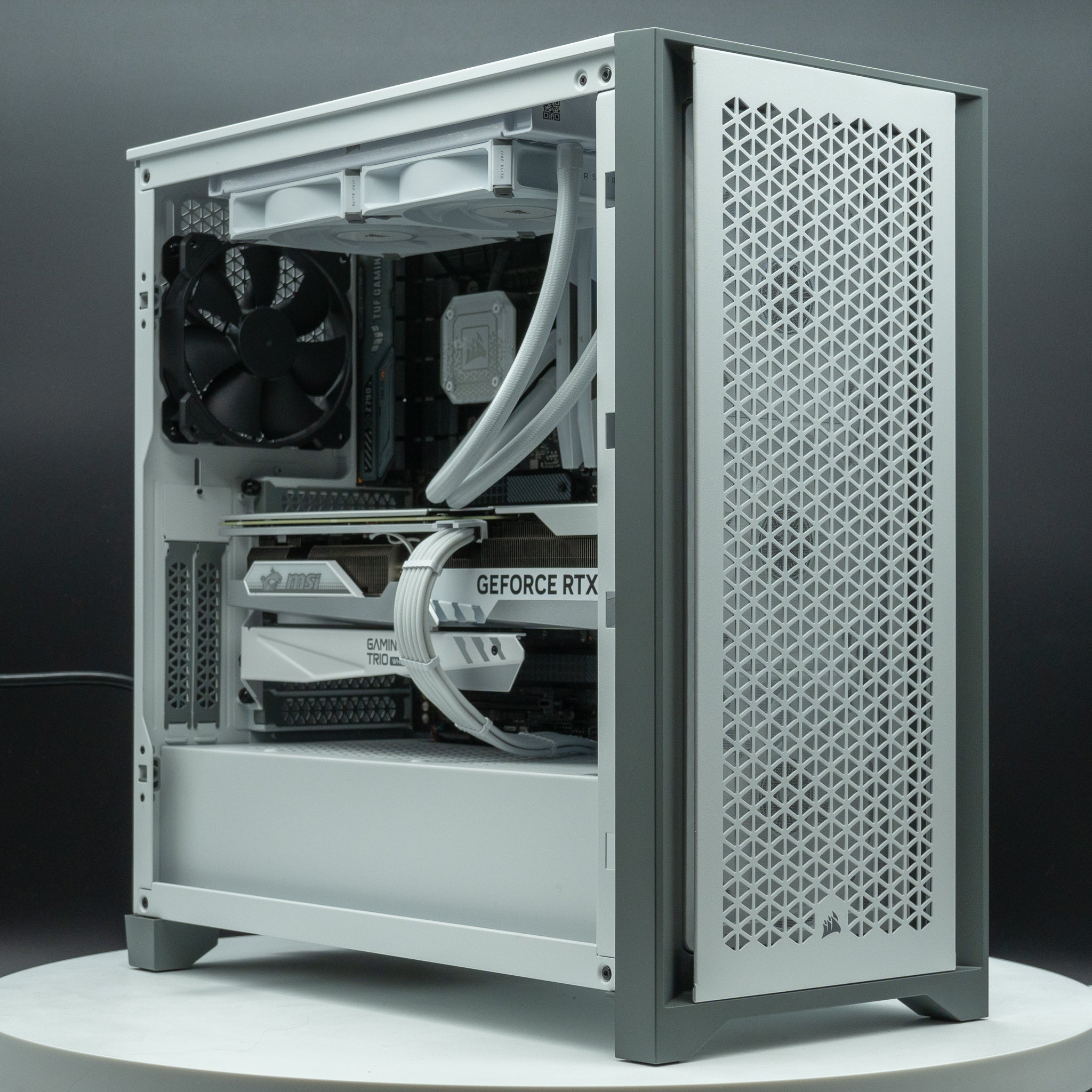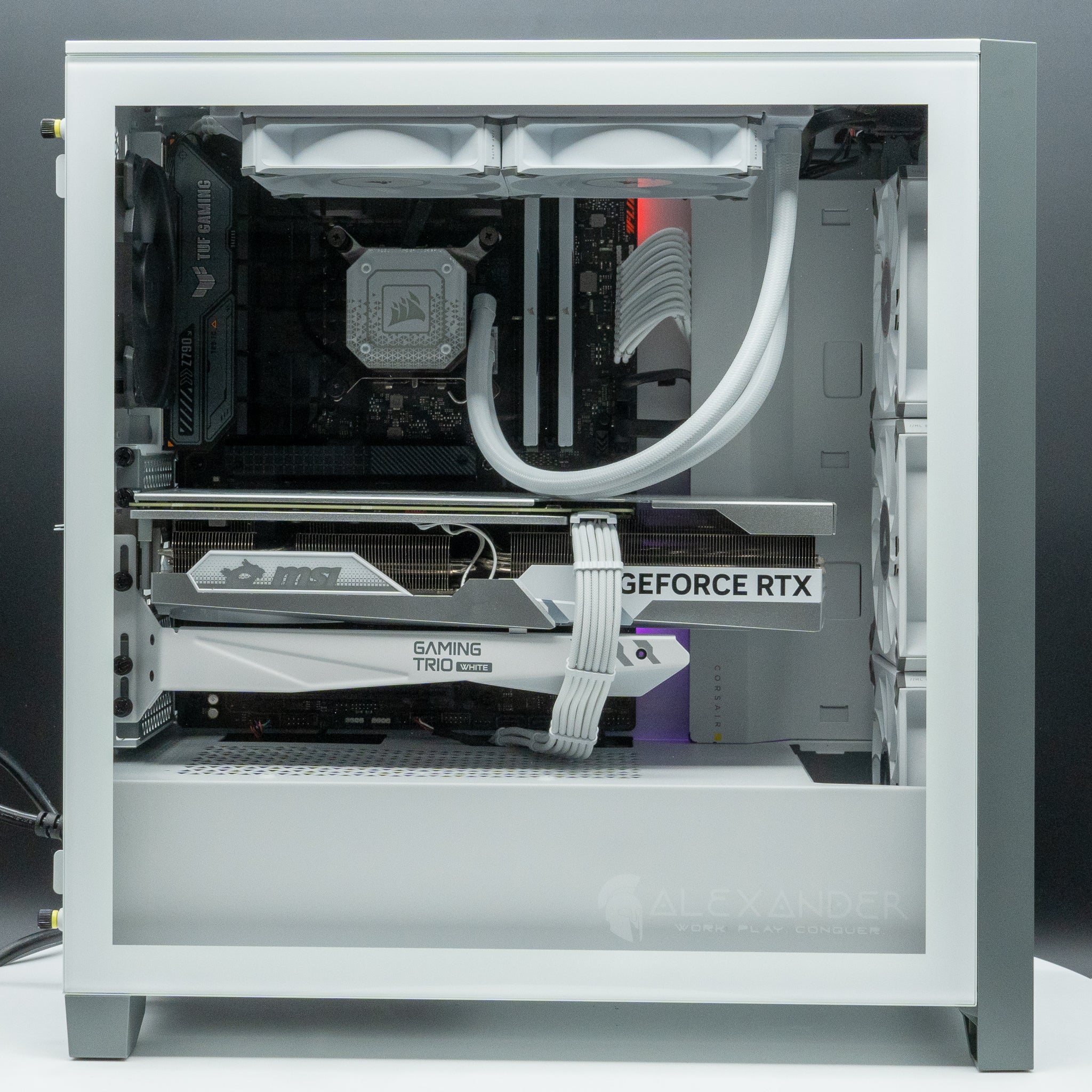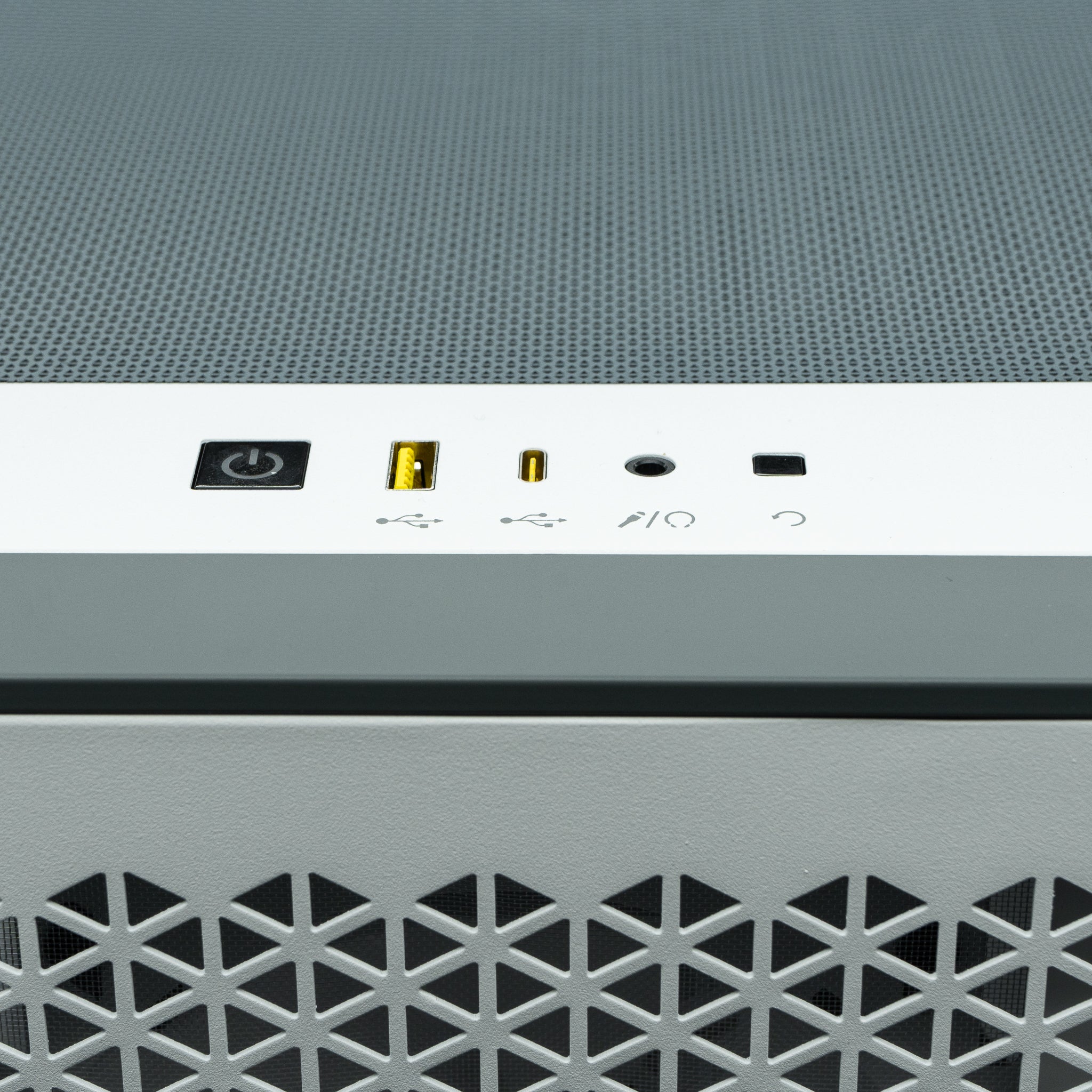 The Spartan - Intel - White
---
The Spartan - 14th Gen Intel - Unyielding Power. Unbreakable Spirit.

Want to see us build a Spartan? Click here: https://youtu.be/G9D6AX9AWto
The Spartan (Intel) is designed especially for gaming. Like the ancient Spartans, this one's all business - with some added flair via lots of Corsair RGB! Intel's 14th Generation "Raptor Lake" processors are where we started with our latest iteration of Spartan. Groundbreaking is the right word for the performance level with these new Intel CPUs, and we're seeing a significant jump in performance over the previous generation in both gaming performance and content creation applications. Perhaps it's the record high clock speeds, or perhaps it's because of the larger L2 and L3 caches  - we're betting it's a little of both!
With such a staggering amount of performance from the new CPUs, we needed to find the perfect GPU to pair it with to deliver the gaming performance it deserves. Although there are some viable competitors on the market, ultimately it just wasn't possible to look away from the new NVIDIA based GeForce RTX 4070 and RTX 4070 Ti as the right fit for this one. These GPUs deliver great gaming performance across a wide variety of game titles and engines - everything from eSports, FPS shooters, and AAA cinematic titles with ray tracing - they'll deliver everything you need. And with the surrounding ecosystem of supporting software which NVIDIA does much better than the competition - such as Reflex, DLSS, and Broadcast - you'll have the tools you need to simply get every ounce of potential out of them without needing a degree in Aerospace Engineering.
With our CPU and GPU options settled, we need to start thinking about how to optimize temps for consistent performance. Any good cooling solution starts with making sure you've got a cooler capable of keeping the CPU boosting even under heavy gaming loads. Our 13th Gen CPU choices pack monstrous performance, but they also pack significant heat output, so we're opting for liquid cooling here in the form of a Corsair H100i Elite Capellix XT AIO. A massive cold plate provides entire-IHS coverage for the CPU, and a high quality pump and well-machined cooling fins ensure efficient heat removal. As an added bonus, this is definitely one of the most attractive coolers in the game and delivers great RGB via Corsair's iCUE software (which we install for you). If you want to take your customization to the next level, 
Next we looked to the motherboard. The quickest way to ensure your system deteriorates quickly is to cut corners on the motherboard. The quality of the power solution, cooling system, capacitors, and VRM truly matter more and more the longer you play on a system. We chose ASUS' TUF Gaming Z790-PLUS WiFi for this one in order to facilitate DDR5 memory. Of course, 16+1 power stages (rated 60A), military grade components, and high quality capacitors, chokes, and heat sinks are all good reasons for this one as well. Also factoring in are onboard WiFi 6, Bluetooth v5.3, USB 3.2 Type-C and PCIe 5.0 - all the connectivity that matters for now, and for later. 
When it comes to storage, not all "SSDs" are created equal. Far from it. SATA based SSDs are outdated and usually provide read/write speeds somewhere between 200-550 Mb/s. Mechanical hard drives have average read/write speeds of 80-160 Mb/s. Compare these figures to our Kingston KC3000 M.2 NVMe SSDs that throw down with a minimum rating of 7000 Mb/s sequential read and 6000 Mb/s sequential write speeds. If you're still running on an old hard drive or SATA based SSD, you're going to love the difference these drives make in your system. Load times? What load times? Or maybe game, stream, and record simultaneously without saturating your drive bandwidth. 

Since we're working in a Corsair case for this one, and we've got Corsair case fans and a Corsair AIO liquid cooler as well, we decided to stick with Corsair memory for this one. A heaping helping of Vengeance RGB Pro DDR5-6000 memory is plenty enough for any game. And if you want to stream and record as well... it's still enough!
We've chosen a Corsair 4000D Airflow case for this one. It's a very well made case with a super clean look, and provides a great amount of accessibility and airflow. It also allows for 3x120mm RGB front fans with magnetic levitation bearings. That's some fancy sounding stuff - which we don't care about. What we do care about is how it provides super smooth and quiet airflow with minimal friction for your new PC. 
If cutting corners on the motherboard is the best way to ensure premature system failure, a cheap power supply is next in line as a surefire way to ensure excessive wear and tear on things. A steady supply of smooth, efficient power flowing through a high quality board is the only recipe for cooking up a system that will perform at its peak longer. So we juice this one with a fully modular, 80+ gold-rated, retail version unit to ensure we're providing quality that's up to our extremely high standards. Every part we choose is carefully considered with our clients' long-term experiences in mind, and the power supply is no exception!
The Spartan comes with Windows 11 Professional installed and fully updated. We also install and update all necessary drivers prior to shipping your PC.
All Alexander PCs systems arrive:
* Fully assembled, with Windows installed, activated and updated
* Memory overclocked
* BIOS and drivers updated and optimized
* Ready to unbox, plug in, install your games and play!
Full System Specs
CPU - Intel Core i7-14700K 
CPU Cooler - Corsair iCUE H100i Elite Capellix XT -or- H100i Elite LCD White
Motherboard - ASUS TUF Gaming Z790-PLUS WiFi
GPU - GeForce RTX 4070 -or- RTX 4070 Ti
RAM - 32GB Corsair Vengeance RGB Pro DDR5-6000 White
SSD - 1TB Kingston KC3000 PCIe Gen 4 M.2-2280 NVMe SSD
Operating System - Windows 11 Professional
Power Supply Unit - 850-watt 80-plus gold rated, fully modular 
Chassis - Corsair 4000D Airflow White
Case Fans - (3x) Corsair iCUE ML120 RGB Elite White
Extras - sleeved cable extensions in client's color choice from available library
Warranty: Lifetime Parts and Service